ZAAHID
Vision Therapist
Zaahid loves educating, laughing, and interacting with all of his Vision Therapy patients, and his biggest reward is seeing smiles on their faces when they notice improvements. He first started working at Lynn Valley Optometry in 2015 as a University of British Columbia co-op student and hasn't looked back since. In his spare time, Zaahid enjoys playing sports, watching hockey, and spending time with his family.
Ruby
Certified Optician, AUS
Ruby prides herself on offering personalized and practical vision care. She studied to become an Optician in Australia and her 10+ years of experience and knowledge were a valued addition to our LVO team. When she is not in the office, Ruby is pursuing her acting career, dancing, and exploring the beautiful outdoor adventures that British Columbia has to offer. Enjoy her Aussie sense of humour, if you dare.
Samantha
Vision Therapist
You can always count on Samantha to have a positive and energetic presence in the clinic. Her greatest reward is seeing our Vision Therapy patients not only improve their visual system but also learn life skills and boost their self-confidence in everything that they do. When she is not in the office, she likes to spend her time reading, baking, hiking the local trails and spending time with her three daughters.
Zaneta
Clinic Manager
Zaneta always makes sure that our patients feel supported on both a professional and personal level. She graduated as a certified holistic nutritionist from the Institute of Holistic Nutrition in 2019. Her knowledge of innovative, holistic health care is something we love to draw upon. When she is not in the office, you can find Zaneta hiking, camping, kayaking and mountain biking, as well as discovering new healthy recipes for baking and cooking.
Katelyn
Vision Therapist
Katelyn looks forward to meeting new patients every day, and hopes to help each one of them achieve their goals and aspirations. She graduated with a Bachelor of Psychology degree before pursuing a career in the world of optometry. With over 4 years of experience as a Vision Therapist, Katelyn contributes knowledge and compassion to our team. She strives to make sure that all of her patients feel supported and comfortable. During her spare time, Katelyn enjoys spending time outdoors with her dog.
WASEEM
Lab Technician
Waseem has extensive experience in the optical field, having previously worked as a clinic machine operator and lab technician. He looks forward to assisting as many patients as he can and approaches every challenge with critical thinking and immense positivity. You will always Waseem with a smile on his face, especially when we are using our popcorn machine. During his spare time, he enjoys playing and watching soccer, listening to music, and catching up on the latest movies.
Rachel
Eyecare Specialist
Rachel enjoys educating patients on the latest lens technology, and has a great eye for new frame styles and designs. She studied Optical Science at the Northern Alberta Institute of Technology, and draws on her 9+ years of optical experience in helping clients. When she is not in the office, Rachel enjoys travelling, baking, hiking and attending concerts.
SIOBHAN
Eyewear Specialist
Siobhan has worked as an Optician for over five years and takes pride in her creativity, determination and willingness to help our clients. In addition to her previous management experience within various art organizations, she has been a global traveller and values exploration and learning. Siobhan's hobbies include acting, producing, cooking, visiting local markets and exploring Vancouver's stunning nature scene.
DARYA
Eyecare Specialist
Darya takes pride in providing the best customer service experience every day. She has a passion for finding the right frame design for each of her patients and loves connecting and laughing with everyone that comes through our clinic doors. On her days off, Darya enjoys reading, meditating, trying out new recipes, and spending time outdoors.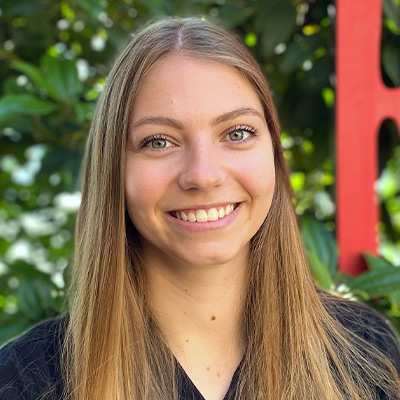 katarina
Optometric Assistant
Katarina enjoys interacting with patients, learning more about optometry, and challenging herself every day. She graduated with a Bachelor's Degree in Urgent Health Care and completed further studies at Tamwood College in 2019. When she's at the clinic, You can always count on her to be happy and supportive. Katarina enjoys playing volleyball, exercising and curling up with a good detective novel.
hanna
Dry Eye Treatment + Ocular Aesthetics Technician
Hanna enjoys learning about optometry, and you can always count on her to be enthusiastic, friendly and approachable. She is currently completing her final year of a Bachelor of Business Administration degree at Capilano University, with a major in finance. Before joining the LVO team, Hanna previously worked in accounting and customer service roles. During her spare time, she enjoys travelling and cooking.
Michelle
Optometric Assistant
Michelle takes pride in giving all of our patients a fantastic vision care experience and looks forward to interacting with and learning from her colleagues every day. As a member of the LVO team, Michelle draws on her extensive previous experience in customer service. When the weather is cooperating, you'll often find Michelle exploring the local trails and mountains with her Alaskan Malamute dog, Zeus.
Brandon
Optometric Assistant
Brandon takes pride in bringing his extensive customer service experience to the clinic. He is always keen to learn more about the human eye and the growing optical industry and looks forward to interacting with his team members every day. Outside of the clinic, he enjoys practicing competitive taekwondo and riding his bike while soaking in the beautiful, albeit unpredictable, Vancouver summer weather.
eric
Optometric Assistant
Eric looks forward to interacting with our clients and enjoys working closely alongside our doctors. Currently, he combines his work in our clinic with studying Biology at the University of British Columbia, where he is increasing his understanding of the human eye. Like many of our team members, when Eric is not in the clinic, he enjoys hiking, golfing, and watching Game of Thrones. He's quick with a joke, so get ready for some laughs during your diagnostic testing!
masih
Optometric Assistant
Masih looks forward to interacting with our patients, and he goes above and beyond to ensure that they have a great experience. He enjoys working alongside our doctors and challenging himself to learn something new every day. When Masih is not in the office, you can find him playing basketball, going to the gym or exploring Lynn Headwaters Regional Park.
alex
Optometric Assistant
As a co-op student working in our clinic, Alex looks forward to interacting with all of our patients and educating them about different aspects of their eye health. She also values working alongside our doctors every day, and is always keen to learn something new from them. When Alex is not in the office, you can find her hiking, baking and attending recreational ballet classes.
lizelle
Contact Lens Technician
As a trained optometrist from South Africa, Lizelle has over 20 years of experience in the optometry field. Her aim is to support the lifestyle needs of her patients by offering personalized solutions. During her spare time, you can find Lizelle soaking her feet in the sand, exploring the beautiful and secluded B.C. trails, or spending quality time with her boys.