Eyecare and Glasses
in Lynn Valley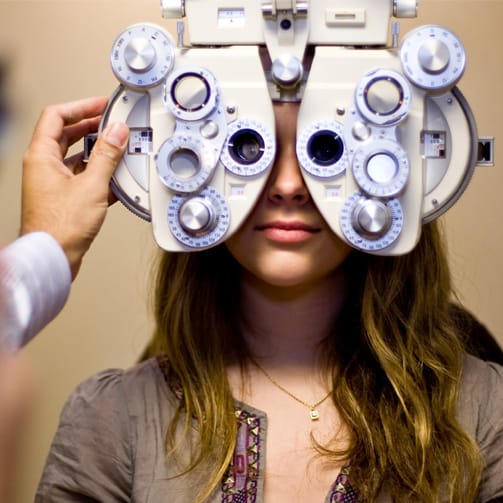 Westcoast designer Susan Taubensee created the new Lynn Valley practice to provide you with a relaxing and unique experience in eye care and eyewear.
Westcoast designer Susan Taubensee imagined this space, featuring a beautiful modern reception area, and fully equipped examination rooms. Our Nespresso bar welcomes our patients and helps to make visitors feel comfortable.  In addition to having a modern facility and top-notch staff, our space is family friendly; kids often find our equipment and state-of-the-art technology cool. We've also got a waiting room just for the kids, and an Xbox Kinect. This helps to make their experience memorable and enjoyable.
We are proud to be able to offer many specialized services at our optometry practice, all in this one location, including services for patients of all ages; our myopia treatment centre; Vision Shaping Treatment (VST); iTherapy Learning Centre; ocular nutrition and vitamins; our Dry Eye Centre of Excellence; and updated equipment.
Our team is here to redefine your eyewear and eyecare experience. Drop in, call, fax, email, or text us at:
1233 Lynn Valley Rd #255 (in Lynn Valley Village)
North Vancouver, BC
V7J 0A1
Phone: (604) 987-9191
Fax: (604) 987-9109
E-mail: Email Us
Text: Text Us
Clinic Hours:
Monday 9:00 AM – 6:00 PM
Tuesday 9:00 AM – 6:00 PM
Wednesday 9:00 AM – 6:00 PM
Thursday 9:00 AM – 6:00 PM
Friday 10:00 AM – 6:00 PM
Saturday 9:00 AM – 4:00 PM
Should you require assistance outside of these hours, please visit your local walk-in clinic.
You can also shop our selection of more than 1,200 frames, or book an appointment online anytime.