Comprehensive Eye Examination
FROM AN EXPERT OPTOMETRIST
We will carry out a range of eye exams to assess your ocular health. We use the Optomap® Retinal Exam to detect any potential problems and to get a closer inspection of the back of your eye.
We will explain each test to make sure you are aware of your eye health and vision requirements
Covered by Your Vision Benefits
Most comprehensive benefit programs include eyecare coverage that greatly reduces or eliminates the cost. Unsure if you're covered? Ask us and we can help!
Bring Your Family
Our eyecare office is family-friendly. Kids love our state-of-the-art space, compassionate staff, and cool machines and technology to interact with.
State of the Art Technology
We invest heavily in proven new technology and staff training. Our clients expect the best and we aim to deliver 100% of the time.
The Importance of
REGULAR VISION TESTING
We would like to emphasize the importance of scheduling annual eye exams with your eye doctor to detect harmful conditions, help improve your vision, and preserve your regular eye health. There has been an extensive amount of research done in this area concluding that early detection and prevention is essential to treatment of diseases and eye problems such as cataracts and macular degeneration.
By receiving regular examinations we are able to observe changes year to year and detect any abnormalities early on so that we can help you and your family avoid preventable vision loss and disease. It's a win/win!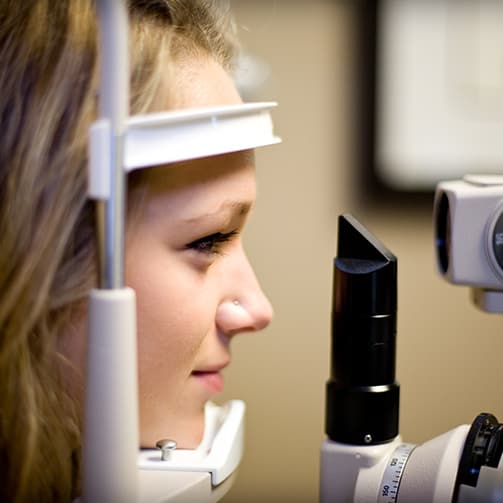 75% of Vision Loss
CAN BE AVOIDED
The term 20/20 simply means that an individual can clearly see the letters on a standard eye chart, or, what someone with clear vision should be able to see at 20 feet. There is so much more to healthy vision than 20/20. We offer one of the most comprehensive eye exams using state-of-the-art diagnostic equipment. At Lynn Valley Optometry, we focus on prevention: we want to detect signs of disease or abnormalities early on and avoid vision problems, while conditions are still treatable, and therefore have designed our exams to reflect this goal.



What to Expect at
YOUR FIRST EYE EXAM
At Lynn Valley Optometry we go beyond 20/20 vision. We offer a comprehensive eye exam using the latest technology available in the eye care industry. Our eye exams include the following tests upon your first visit:
Visual Acuity Test
A visual acuity test is used to measure the sharpness of your vision. This test is conducted using a Snellen eye chart. We use the Ishihara Test to examine your eyes for colour blindness. This is usually only conducted on your initial eye exam. Colour blindness that occurs later in life can point to other health problems. If you are experiencing colour blindness please contact us right away for an eye exam.
Refraction
Refraction is the test that our eye doctors use to determine your exact eyewear prescription. The optometrist uses an instrument called phoropter. The phoropter has a series of different lenses. The optometrist goes through different lenses while asking the patient which ones seem clearer. Using this method the doctor is able to narrow it down to an exact prescription.
Glaucoma Test
At LVO we use an icare instrument to test for Glaucoma. The icare instrument is non intrusive and does not use the common air puff found in other glaucoma tests.
Cover Test
The cover test is one of the most common and simplest exams. The optometrist will cover one of the patient's eyes and have the patient focus on an object from different depths. The cover test detects strabismus or a more subtle binocular vision problem that could cause eye strain or amblyopia ("lazy eye").
Autorefractor
An autorefractor test is similar to a refraction test, where the eye doctor determines the lens power required to accurately focus light on your retina. This test is essential when verifying a child's eyeglass prescription. Modern day autorefractors are very useful as they save time and are very accurate.
Pupil Dilation
Eye drops are used to dilate your pupils. This gives the doctor the ability to get a better look into your eyes for diseases. These drops generally take 20 – 30 minutes to take effect and can last up to several hours. Bringing sunglasses for your trip home is highly recommended.
Retinoscopy
Retinoscopy is conducted in a dimly lit environment. The optometrist has the patient focus on an object while they flip lenses and shine light at your eye. This gives the optometrist an insight to your approximate prescription. This test is very useful for children and patients who are not able to accurately answer the optometrists questions.
Slit-Lamp Examination
Used in conjunction with a biomicroscope, the Optometrist uses a slit lamp instrument to shine a thin sheet of light into the eye. This examination is for the eyelid, sclera, conjunctiva, iris, natural crystalline lens and the cornea to diagnose a variety of eye conditions. A second hand held lens is used to examine the retina.
Visual Field Test
The visual field test is an exam that is used to detect dysfunction in central and peripheral vision. This test can bring light to other medical conditions such as glaucoma, stroke, brain tumours or other neurological deficits.
How long does the Eye Exam take?
From check-in to checkout we will need you here for 1 hour. This includes pre-testing, full eye exam with one of our Optometrists and a consultation with a Licensed Optician.
I am interested in getting contacts, do I need to let you know before booking an eye exam?
Yes, please let us know so that we can book you in with our contact lens specialist.
How often do I need an Eye Exam?
Recommended by The Canadian Association of Optometrists:
Children 0 – 24 months: Should undergo their first eye exam between the ages of 6 to 9 months. It is crucial that infants are examined at 6 to 9 months to check that their eyes focus, the eyes are straight, and there is no internal eye disease. Early treatment can significantly decrease lifelong vision impairment.
Children 2 – 5 years: It is recommended that children between 2 – 5 years should have their eyes examined at least once in this time frame.
Children 5 – 19: It is recommended that children between 5 – 19 are examined each year. This is very important as changes in vision can highly affect learning and sports abilities.
Adults 20 – 64: Exams are recommended on a 1 – 2-year basis.
Seniors: 65+: Should have annual exams.